ESET Remote Workforce Offer

Advanced ransomware & business data protection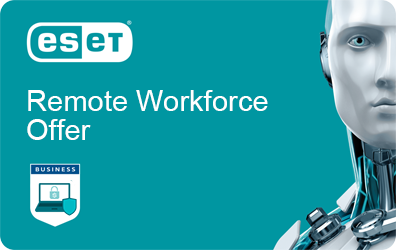 Sorry, this product is no longer available, please contact us for a replacement.
Overview:
ESET Remote Workforce Offer
Improved ransomware and zero-day attacks protection managed from a cloud-based console, combined with a powerful solution protecting business data.
Improved ransomware protection and zero-day attacks solution with cloud sandboxing
Cloud management - visibility of the network, convenience, lower total cost of ownership
Advanced technology - machine learning, deep behavioral inspection & ransomware shield
What's included in the bundled solution:
Endpoint Security
ESET's endpoint protection solutions leverage multilayered technologies in dynamic equilibrium to constantly balance performance, detection and false positives.
See What's Inside
Included products manageable via ESET Cloud Administrator:

Included products not manageable via ESET Cloud Administrator:
File Server Security
Provides advanced protection to all network file storage, general servers and multi-purpose servers. Ensures servers are stable and conflict-free. Limits restarts and maintenance windows to a minimum to guarantee business continuity.
See What's Inside
Included products manageable via ESET Cloud Administrator:

Included products not manageable via ESET Cloud Administrator:
Cloud-based Sandbox Analysis
ESET Dynamic Threat Defense is a cloud-based sandboxing solution. It evaluates behavior of all submitted samples with threat intelligence feeds, ESET's multiple internal tools for static and dynamic analysis and reputation data to detect zero-day threats.
Manage products via the cloud
ESET Cloud Administrator web-based console enables you to remotely manage all products of your company's network security. This service gets rid of the need to buy, install or maintain additional hardware. So you reduce the total cost of ownership. It's easy to use. So you can concentrate on your important work.
All your network security management in one place
Secure access via web browser
Always the latest version – updates automatically
No need for extra hardware
System Requirements:
Supported operating systems
For computers
Microsoft Windows 10, 8.1, 8, 7, Vista
macOS 10.9 and later
Ubuntu Desktop 18.04 LTS 64-bit and RedHat Enterprise Linux (RHEL) Desktop 7 64-bit
For smartphones and tablets
Android 5 (Lollipop) and later
iOS 8 and later
For file servers
Microsoft Windows Server 2019, 2016, 2012, 2008
Microsoft Windows Storage Server 2016, 2012, 2008
Microsoft Windows MultiPoint Server 2012, 2011, 2010
Microsoft Windows Small Business Server 2011, 2008
RedHat Enterprise Linux (RHEL) 7 64-bit
CentOS 7 64-bit
Ubuntu Server 16.04 LTS 64-bit, 18.04 LTS 64-bit
Debian 9 64-bit
SUSE Linux Enterprise Server (SLES) 12 64-bit, 15 64-bit
For virtual environments
VMware vSphere 6.0, 6.5+, 6.7+ (vCenter Single Sign-On, vSphere Client/Web Client, vCenter Server, vCenter Inventory Service)
VMware NSX Manager 6.3+, 6.4.0, 6.4.1, 6.4.2
VMware Guest Introspection 6.2.4+, 6.3+, 6.4+
Flexible license
Mix and match your licenses as needed
ESET Unilicense covers all the bases, allowing you to mix and match endpoint protection without wasting a single license.
Add additional devices at any time
You can purchase licenses for additional computers, laptops, mobile devices and servers any time.
Transfer a license to another computer
You can transfer a valid ESET license to a completely new computer from the original one. In addition, you can switch from one OS to another.
Switch to a different platform at any time
It's easy to switch your protection from one platform to another any time during the license term, without having to purchase additional licenses.
Pricing Notes:
Antivirus for Microsoft Azure server. Windows Server 2000, 2003, 2008. Media: License Download.
Pricing and product availability subject to change without notice.