ESET Mail Security for IBM Domino

Do More With Your IBM Domino Server Secured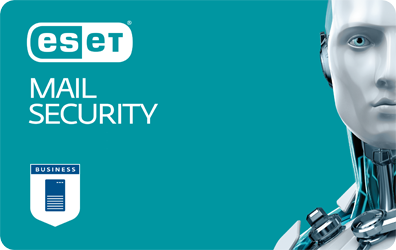 Sorry, this product is no longer available, please contact us for a replacement.
More pricing and licensing options below!
Overview:
ESET Mail Security for Lotus Domino provides powerful antivirus and antispam protection, scanning all email traffic passing through the Lotus Domino server, as well as providing fully fledged server-as-client protection.
Safeguard your email with simple set-and-forget protection against malware and spam
Antivirus & Antispam eliminates all types of threats, including viruses, rootkits, worms and spyware and stops spam and phishing attempts with high interception rates.
Meets the needs of complex network infrastructure. Optimized for Virtual environments, with Snapshot Independence and Native Clustering support.
Remote Management. Fully manageable via the new ESET Remote Administrator web console.
Features:
Antivirus and Antispyware
Eliminates all types of threats, including viruses, rootkits, worms and spyware
Protects your email gateway at the SMTP and NRPC levels and regularly scans email data stored on Domino Server
ESET Self-Defense prevents malware and unauthorized users from disabling and weakening the security of the system
Provides all the tools for full-fledged server protection, including the resident shield and on-demand scanner
Perform scans on-demand or schedule scans of any content stored within the Domino database structure
Powered by the advanced ThreatSense technology combining speed, accuracy and minimal system impact
Antispam
Stops spam and phishing messages with high interception rates
Allows you to define antispam threshold scores with greater precision
Real file type detection lets the admin apply policies for specific type of content in e-mail attachments
Lets you configure all key antispam settings via the intuitive user interface
Remote Administration
ESET Mail Security for IBM Lotus Domino is compatible with ESET Remote Administrator
Allows you to remotely deploy, manage, and update and report on all instances of ESET security software in the company network
Offers a set of pre-defined actions upon scanning results
Log & Statistics
Lets you keep abreast of security status with detailed and comprehensive logs and statistics
Spam log – Displays sender, recipient, spam score, classification reason and action taken
Greylisting log – Displays greylisted sender, recipient, action taken and status until connection denial period ends
Smooth Operation
Supports Lotus Domino Partitioned servers (multiple Domino installations on one physical machine) Automatically excludes critical server files from scanning
Benefits:
Anti-malware Protection and Antispam
Antivirus and Antispyware
Eliminates all types of threats, including viruses, rootkits, worms and spyware with optional cloud-powered scanning for even better detection performance.
Antispam and Anti-Phishing
Stops spam and phishing attempts, with high interception rates. Ready to run after installation without further configuration.
Exploit Blocker - Fighting Targeted Attacks
New detection technology that strengthens protection against targeted attacks and previously unknown exploits – i.e. zero-day attacks.
Message Processing Rules
Offers a wide range of combinations for handling every message, using standard and advanced parameters including previous anti-spam filtering or antivirus scanner results.
Database On-Demand Scan
Administrators can choose which databases and mailboxes will be scanned. Smart scanning allows server resources to be conserved.
Device Control
Ensure no unauthorized offline media are used within your network. Blocks unauthorized devices, or allows different access levels.
Complex Infrastructure Covered
Snapshot Independence
ESET updates and program modules can be stored outside of the default location – so updates and modules don't have to be downloaded every time a virtual machine is reverted to an earlier snapshot.
Native Clustering Support
Interconnect several installed nodes of ESET Mail Security within a cluster and manage them as one, eliminating the need to replicate changes in configuration manually.
ESET Shared Local Cache
ESET Shared Local Cache stores the metadata of scanned files so replica files on one machine are not scanned again on other virtual machines.
Windows Management Instrumentation (WMI) Provider 
Monitors key functionalities of ESET Mail Security via WMI framework. This allows integration of ESET Mail Security into third-party management and SIEM software.
Usability
Process Exclusions
Allows you to define processes which are ignored by the real-time protection module – especially useful for backup or live virtual machine migration.
Incremental Micro-Definitions
Updates and actualizations are downloaded and applied incrementally in small packages, conserving system resources and internet bandwidth without any noticeable impact.
Component-Based Installation
Install on the components you need, including Real-Time File System Protection, Web and Email Protection, Device Control, and more.
Remote Management
ESET Mail Security comes fully manageable via ESET Remote Administrator, delivering a perfect "look & see" overview of the network security status.
ESET Log Collector
Collects all logs relevant for troubleshooting into one archive, which can be emailed or uploaded to a shared network drive to speed up the troubleshooting process.
ESET License Administrator
Handle all licenses via web browser, transparently from one place, merging, delegating and managing them in real-time.
System Requirements:
Operating Systems:
Microsoft Windows Server 2000
Microsoft Windows Server 2003 (32 & 64-bit)
Microsoft Windows Server 2008 (32 & 64-bit)
Microsoft Windows Server 2008 R2
Microsoft Windows Server 2012
Microsoft Windows Server 2016
Supported IBM Lotus Domino Versions:
IBM Lotus Domino 6.5
IBM Lotus Domino 7.X.X
IBM Lotus Domino 8.X.X
IBM Domino 9.x Social Edition
Processor Architecture:
Compatible with ESET Remote Administrator 6
Note: Not compatible with previous versions of ESET Remote Administrator
See more information about ESET Remote Administrator compatibility
Product Comparison:
 
ESET Mail Security for Microsoft Exchange Server
ESET Mail Security for Linux / FreeBSD
ESET Mail Security for IBM Domino
ESET Security for Kerio
Mail Security Comparison
Platform
Windows
Linux
Windows
Kerio
Antivirus and Antispyware
Filters malware at the mail level with proven antivirus and antispyware technology.
Antispam
Keeps company inboxes spam-free filtering out unsolicited emails, scams, phishing and frauds.
–
Virtualization Support
Designed for virtual environments with a range of features for seamless operation and high performance.
–
–
–
Host Protection
Efficiently protects the server file system as a host against malware and breaches.
–
Kerio Plugin
The NOD32 scanning core seamlessly integrates with Kerio infrastructure as a plugin to filter out malwares.
–
–
Remote Management
Allows to manage mail security and push policies centrally from a single console.
User Interface
The interface provides for a pleasant user experience , with good clarity in the main areas and a great level of fine-tuning under the covers.
GUI
WEB
GUI
GUI
Pricing Notes:
Antivirus for IBM Lotus Domino mail servers 6.5 or newer. Windows Server 2000, 2003, 2008. Media: License Download.
Pricing and product availability subject to change without notice.