The Latest ESET News

Product and Solution Information, Press Releases, Announcements
ESET reaffirms 'Champion' position in global Cybersecurity Leadership Matrix 2020
June 24, 2020 By BlueAlly
---

BRATISLAVA – June 24, 2020 – ESET, a global leader in cybersecurity, has achieved Champion status for the second year in a row in the latest Cybersecurity Leadership Matrix 2020 from Canalys, improving upon 2019's Matrix position with a focus on vendor growth and momentum beyond Europe.
Canalys is a leading global technology market analyst firm with a distinct channel focus that strives to guide clients on the future of the technology industry and to think beyond the business models of the past.
The Canalys Cybersecurity Leadership Matrix assessed 17 cybersecurity vendors on their global channel and market performance over the last 12 months. The Matrix combines partner feedback from Canalys' Vendor Benchmark tool with an independent analysis of each vendor's momentum in the channel based on their investments, strategy, market performance and execution.
ESET achieved the highest score benchmarks in the categories of product availability and supply, and ease of doing business. ESET's improved position in the Matrix is reflective of the launch of an MSP enablement module to drive growth through 7,000 MSPs, as well as incorporating feedback from local Partner Councils on product roadmaps, technologies and customer needs. This collaborative approach ensures that regions across the globe are operating innovatively and efficiently and are tuned in to the pulse of the global cybersecurity landscape.
ESET was one of only seven vendors to be awarded Champion status, and one of four to reaffirm said status, alongside Cisco, Palo Alto Networks, and Fortinet. Champions have the highest scores in the Canalys Vendor Benchmark and exhibit common characteristics, including making improvements to and simplifying channel processes, and demonstrating a commitment to growing partner-generated revenue. Champions must also show that they are making sustainable investments in the future of their channel models, including channel programs and initiatives.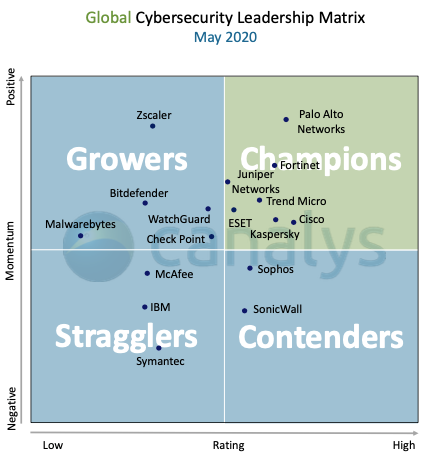 Ignacio Sbampato, chief business officer at ESET, commented: "We have been a channel-focused company since the beginning of our existence and our channel partners know that, so this recognition of ESET as a 'Champion' two years in a row is a confirmation that we are doing a great work together based on an honest and straightforward approach towards building strong and long-lasting collaborations all over the world. We are constantly innovating and improving on our offerings, and it is extremely rewarding to know that our partners rate us highly, and our increased support for MSPs is valued. A safer internet experience for all is central to our core mission, the foundation of which is our strong relationships with our partners."
Don't miss out on our sales events and all our big promotions, subscribe to our email and enjoy exclusive weekly deals from Virtual Graffiti!